Can Garage Door Open Without Power?
As a trusted garage door repair company in Calgary, AB., we often hear the following question from our clients. " Can garage door open without power ?" The answer is yes, you can open your garage door if you have no power. The procedure is very simple and has only two steps. 
First, find a red emergency release cord and pull it down to disconnect your door from the opener. 

Then, once the latch has been released, grab your garage door by the handle or one of the hinges, and pull it up. 
A properly balanced garage door should be light enough for you to lift it with just one hand. If you have a wall mount or a jackshaft opener, you also need to open the magnetic lock manually. That's how you can open your garage door without power.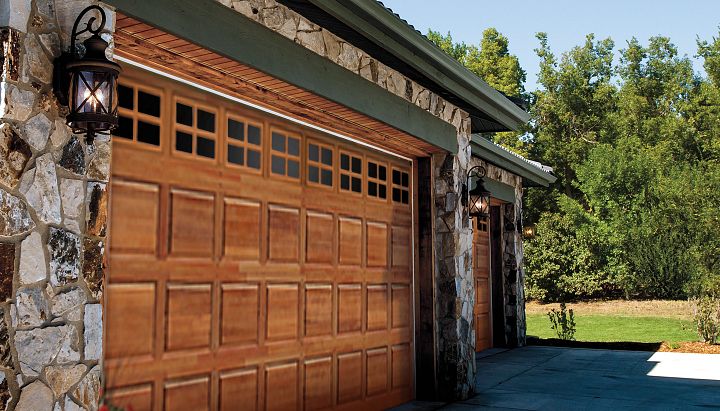 Why can't I open the garage door without power?
If you feel that your garage door is too heavy to lift even after releasing an emergency latch, you might have a broken garage door spring. Unfortunately, this is not something you can solve yourself. Instead, a professional garage door repair company should fix it for you.
Another possible reason for your garage door to refuse to open after pulling the emergency release – the door is frozen to the ground. Sometimes, your rubber seal can freeze to the ground during the winter, making it impossible for you to lift it by hand. Get yourself a flathead screwdriver and prie it open by cracking the ice.
How Can Garage Door Open Without Power? With Battery Backup Garage Door Opener.
How else can garage door open without power? Technology is your best friend in situations like that. For an extra cost, you might get a garage door opener that will open even when there's no power.
Some modern garage door openers made by Liftmaster and Chamberlain come with a battery backup, which allows you to operate your garage door normally even when the power goes out. This is one of the garage door opener features that you might never use, but it's still nice to have it just in case.
Garage door openers with battery backup will require battery replacement every couple of years. You will hear a beeping sound from the opener, indicating the replacement is needed. After all, you don't want to have a battery backup opener that won't work for you when you need it because the battery is out of service. In colder climates like here in the Calgary area, you might have to replace your backup battery more frequently than our southern neighbors. Yet it's still worth having this option.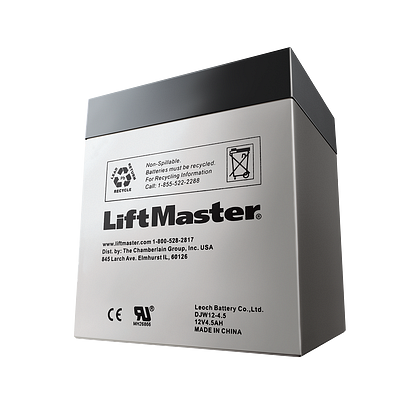 What are the best battery backup garage door openers on the market?
At Calgary Garage door Fix, we firmly believe that Liftmaster and Chamberlain offer the best battery backup garage door openers on the market.
Liftmaster and Chamberlain have proven to be the most reliable, feature-rich, and affordable garage door openers during the last few decades. Innovative technology coupled with high-end security made their garage door openers dominate the residential garage door opener market of North America. Below you'll find the list of our favorite battery backup garage door openers we always suggest for our Calgary-based clients.
Liftmaster 8500w battery backup jackshaft opener.
LM8500w is the high-end unit offered by Liftmaster for those who need perfection. Wi-Fi connectivity, Security 2.0+, magnetic lock, and a battery backup. Those are the features you never thought you needed until you tried them. The equivalent unit by Chamberlain is RJO70. Those two units are pretty much identical, so either one of them will provide a superior garage door opener experience.
Key features:
Wall-mount design frees up ceiling space in your garage and reduces noise and vibration.

Built-in Wi-Fi® allows for smartphone control with the myQ® app.

Battery Backup allows you to open/close your door even when the power is out.

Includes myQ Remote LED Light featuring 1,500 lumens.

Automatic Garage Door Lock deadbolts your door after closing.

Works with Amazon Key: Enables convenient and secure In-Garage Delivery.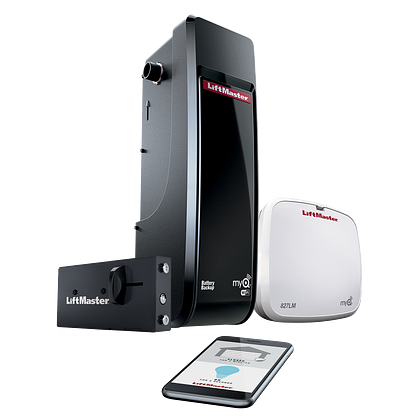 Liftmaster 87504-267 battery backup belt drive opener.
LM 87504-267 is an excellent choice for an ultra-quiet battery backup garage door opener. A durable steel-reinforced belt backed by a lifetime warranty offers you peace of mind and reliable operation. Being able to open your garage door when the power goes out is a great feature included with this piece of equipment. 
A DC motor also backed by Liftmaster's lifetime warranty offers the whisper-quiet operation, ideal for families with small kids sleeping in the room above the garage. The built-in security camera with two-way audio allows you to motor your garage and communicate with the people inside even when you're away. The equivalent garage door opener model by Chamberlain is B6753TC. Both openers are identical and offer the same set of features.
Key features:
The built-in camera adds video and 2-way audio communication to the myQ® app.

Control, secure, and monitor the garage with the myQ app- anytime, anywhere.

360° light ring brightens every garage corner with 2,000 lumens of long-lasting LED light.

Battery backup lets you get in and out when the power is down.

Ultra-quiet DC motor and strong belt drive system ensures comfortable living spaces near the garage.

Works with Amazon Key for convenient and secure In-Garage Delivery of Amazon packages and groceries – watch deliveries happen in real-time.

myQ Diagnostics in the app provides real-time insights for your garage door via the Health Report. Receive alerts and error codes in the app if an issue arises and connect with a professional for services if needed.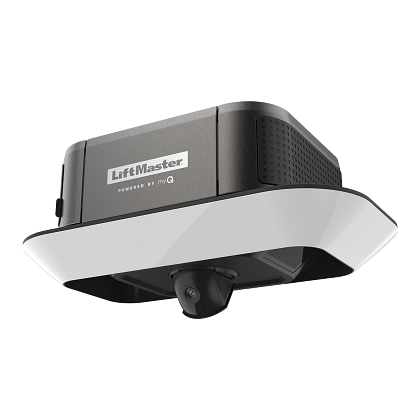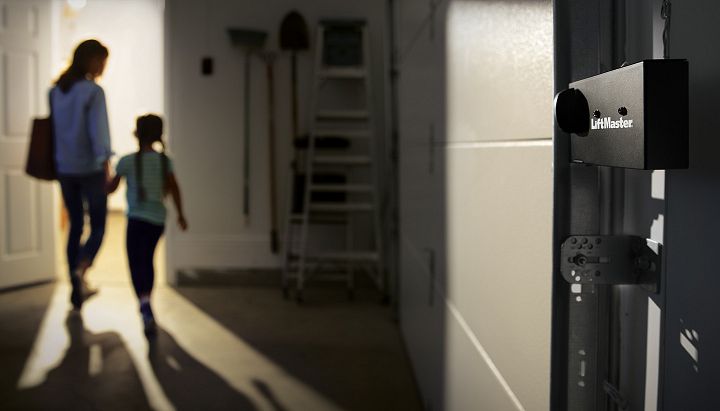 If you need to make sure your garage door can open without power, you can choose one of the battery backup garage door openers or simply follow the steps described above to open your garage door manually. Having a battery backup opener is always a better choice as you do not compromise on security. When you open your garage door manually, your garage door stays unsecured when you leave your house, as the opener is disconnected from the door. This allows anyone to lift your door from the outside while you're away. Therefore you need to come back through the house and secure your garage door from the inside. The easy way to do so is by putting a pair of wise grips on the track to prevent the door from going up.
Calgary Garage Door Fix Inc.
Copyright © 2022. All rights reserved.